Local search engine optimization services
When you partner with us, you get access to data-powered local SEO campaigns that help you turn local visitors into sales.
Let's look at what you'll get with our local SEO services:
1. Local keyword research and selection
Keywords are vital for SEO, and we understand the importance of finding the right ones for your local campaigns. That's why all of our local SEO plans include keyword research.
When you partner with us, we'll perform in-depth research into your business, industry, and competitors to identify the best keywords to attract more local customers.
If you offer consulting services in Chicago, you want to appear at the top of search results when local customers search for terms related to your offerings. With the right keyword selection and targeting, we'll help you make that dream a reality.
2. On-page search optimization
In addition to helping you find the best keywords, we'll help you optimize your website for local SEO. That includes numerous strategies like:
Improving your page load speeds
Making your site mobile-friendly
Producing high-quality, informational content
Optimizing your images
And more!
Each of these on-page tactics will make your website more attractive in the eyes of search engines and local site visitors.
3. Local citation management
It's not just your own website that matters for local SEO. Your presence on third-party websites, like Yelp, is equally vital. People often search for businesses on those sites, and you want to be sure they can find you there.
Thankfully, we have you covered. We'll help you create profiles for each of those sites that will help your audience find you more easily.
On top of that, we'll also help you create and optimize a Google Business Profile, which can appear directly in local search results. We'll make sure key company details like your business name, phone number, address, hours, and more are consistent across the web.
With a stunning Google Business Profile, you'll be able to appear in local 3-packs, which is where Google displays three profiles in response to searches for a particular type of business. That will give you far more search visibility.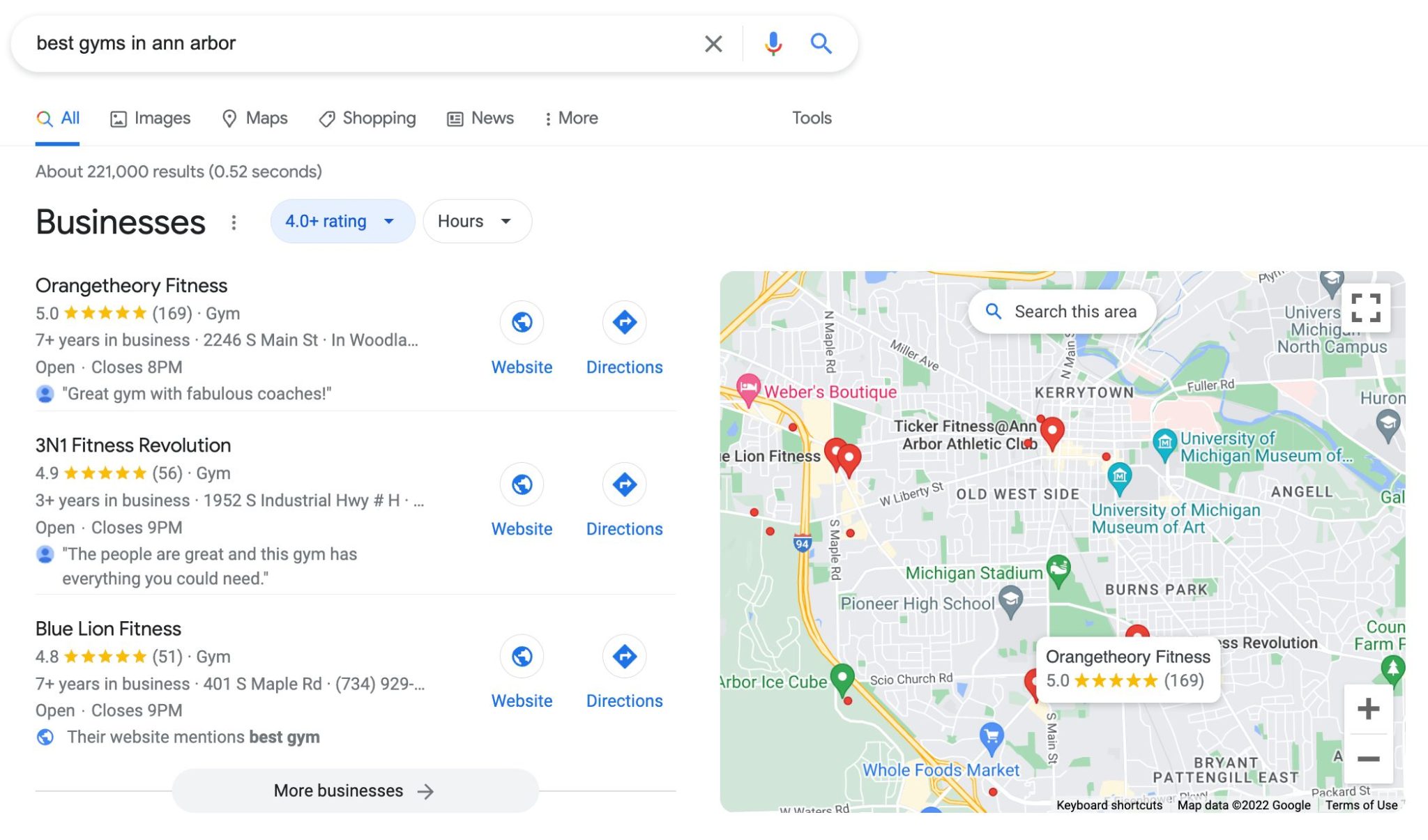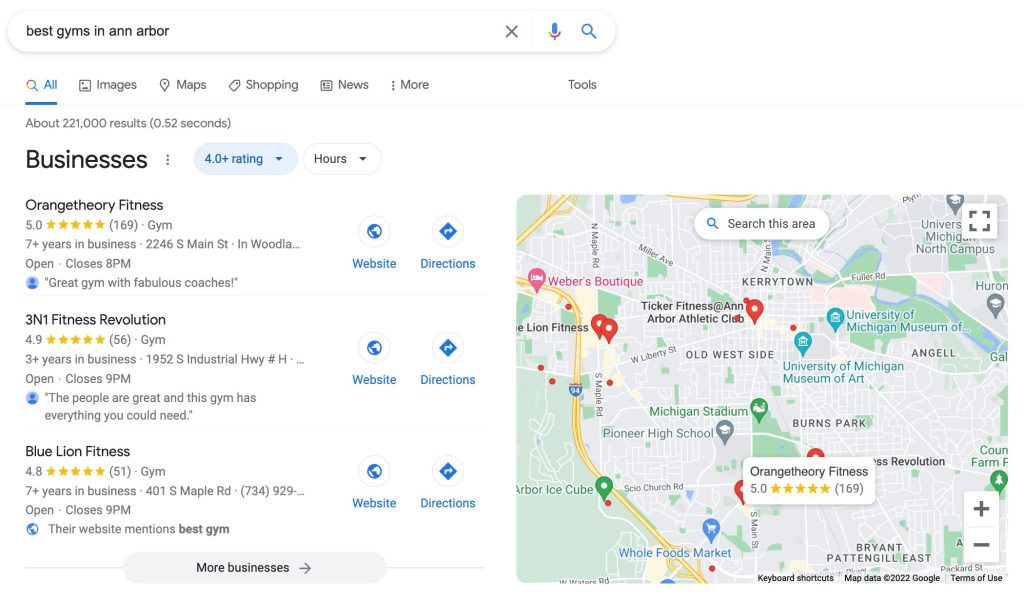 4. Local review management
It's vital to not only have online visibility, but to have positive online visibility. Your potential customers will be sure to research you before buying from you, and if they find poor reviews—or simply a lack of positive ones—they'll think twice.
We take that into account by providing review management services. Using the customer data you gather in our CRM, we'll help you encourage your customers to leave reviews for your company on different sites, including Google and Yelp.
That will help people think much more highly of you and increase the chances of them buying.
5. Monthly analytics reporting
Our local SEO services wouldn't do you much good if we didn't take the time to help you analyze the results. That goes for any marketing strategy—evaluation and reporting are vital to measuring and improving campaign performance.
We provide monthly reports on the status of your local SEO. You can see where you stand in search rankings, how much traffic you're earning, and other metrics that matter most to your business.
That's on top of the reports you can access through our CRM, where you can take it another step to see how your SEO is affecting your conversions and customer satisfaction.
Why partner with us for local search marketing?
Still not convinced we can help you grow leads and revenue with local SEO?
Here are just three of the biggest benefits of working with us:
1. We drive impressive results
The price of SEO services varies considerably, but working with an experienced agency produces an excellent ROI. By partnering with us, you unlock the power of 500+ industry experts for your local SEO strategy. We know exactly what it takes to drive stellar SEO results, and we'll leverage our experience to get you the highest possible ROI.
Don't take our word for it, though. Check out the results we've driven for clients, and hear what they have to say about our work.
2. We save you time
At the end of the day, SEO is only one small facet of your company. You have other marketing campaigns to manage, not to mention non-marketing tasks like sales, budgeting, and product creation.
When you partner with us, you won't have to worry about squeezing SEO into whatever time you have left over after everything else. Instead, you can let us handle your SEO while you focus on what you're best at. That means your SEO receives more care and attention, and you're not as pressed for time.
3. We harness industry-leading technology for your campaigns
There are all kinds of digital resources out there to help you analyze and improve your local SEO, but on your own, you may not know which ones to invest in. Even if you do, you might not want to spend money on all of them.
With us on your team, you'll get access to industry-leading tech and tools to power your local SEO campaigns. Our local SEO campaigns harness data to help you target and reach more customers in your area.
Get started with local SEO services
Ready to take the next step?
Our local SEO experts are standing by to help. Fill out the form on this page to get started with your custom plan!