2020 was going to be a great year for Eclectic Music.
The Atlanta-based music school had a large base of loyal students, and had nearly sold out their annual summer camps by the end of February. Then, things changed.
On March 14th, Georgia's Governor Brian Kemp declared a public health emergency due to the growing threat of COVID-19, two days after the first confirmed coronavirus-related death in the state.
"The day before the state closed down I got sick," Eclectic Music Executive Director Jennifer Acker told Nutshell. "And it was COVID-19. I was in bed for 18 days. As a singer, I know my lung capacity, and I was tracking my ability to inhale. Eventually, it got down to three seconds. I called on my husband and said, 'If it's not better tomorrow, I have to go to the hospital.'"
Fortunately, Jennifer's health began to recover, and her team rallied together to help manage the business as she was working from her bed. But the future of Eclectic Music was still an open question. How would a music school built on community and hands-on instruction survive the new reality?
"We knew immediately that we had to pivot to online lessons," Jennifer said, "Our founder Casey [von Neumann] and I had done a few online lessons in the past, so we knew that they worked. We started training the teachers on Zoom, helping them explore the features before they got into the classroom, and we offered technical support to the best of our abilities. And then Casey wrote a really transparent email to our customers, asking for their continued support."
A portion of that email has been reprinted below:
"Dear Eclectic Music community,
As founder of a small arts organization, I have weathered many storms. Most of them have been literal storms: During the ice storm of 2011 and the Snowpocalypse of 2014, I wondered if my teachers and I would be able to recover from successive school closures and land on our feet.
"What's facing our music school and our broader community today is a storm that none of us could have imagined just a short time ago. All of us will feel the impact, and we can only hope that we will make it through. And even though we'll be physically isolated, we'll need to come together as a community to support each other.
"At Eclectic Music, we must do our part to slow the spread of COVID-19 by suspending in-person meetings. Beginning on Monday, March 16, all of our programming will move online…
"It's likely that our students will have more time than ever to practice in the coming weeks. We can help by checking in with them every day to evaluate their progress and make recommendations, not just at a weekly lesson. You will be amazed at what can be accomplished.
"We know that this isn't what you were planning for when you signed up for music lessons—it wasn't our plan, either! Together with the two-dozen-plus teachers on our team, I am grateful to you for sticking with us. You're supporting not just one small business but two or more. That's because most of our teachers are independent contractors, many of them performing artists in addition to their work in education. We appreciate your continued support and loyalty."
"A lot of our students said, 'I'm not really comfortable with online lessons, we'll see you when you get back,'" Jennifer recalled. "So we asked, 'Would you be willing to try one online lesson before you make the decision?' Many of our clients agreed to try one, and a lot of the clients who tried one stayed."
According to Jennifer, Eclectic Music has been able to retain about 90% of their customer base through their pivot to online lessons, and the positive feedback her team has received has proven how essential music is to the lives of their students.
"We got one email from a mom who told us she cried tears of gratitude for a recital we just hosted. The kids would play the piece they've been working on all year, and we would unmute the whole room and everyone clapped. We were all crying. And I had another mom write to me and say that her daughters have found such comfort in piano during this time. It's been really special."
For the instructors at Eclectic Music, social distancing has also forced them to re-think the way they teach music altogether. "Almost all the teachers said, 'I can't put my hands on my students' instruments anymore. I can't adjust their wrists or their fingers in person.' That was one of the biggest sticky spots to figure out. But one of our teachers said, 'I'm really grateful because it pointed out that I was taking the easy route. I'm becoming a better teacher from this because I can't rely on those immediate fixes.'"
Playing, not "practicing"
As a music major at Florida State University, Jennifer learned first-hand what a formal music education looked like. And she knew it wasn't for her.
"I was always a natural singer, but I really didn't like the study of music. I was constantly behind at Florida State, always struggling to keep up, and it reinforced this perception that music is something that only elite people can understand—like the only people who should be studying music are the people who go to Juilliard or Curtis."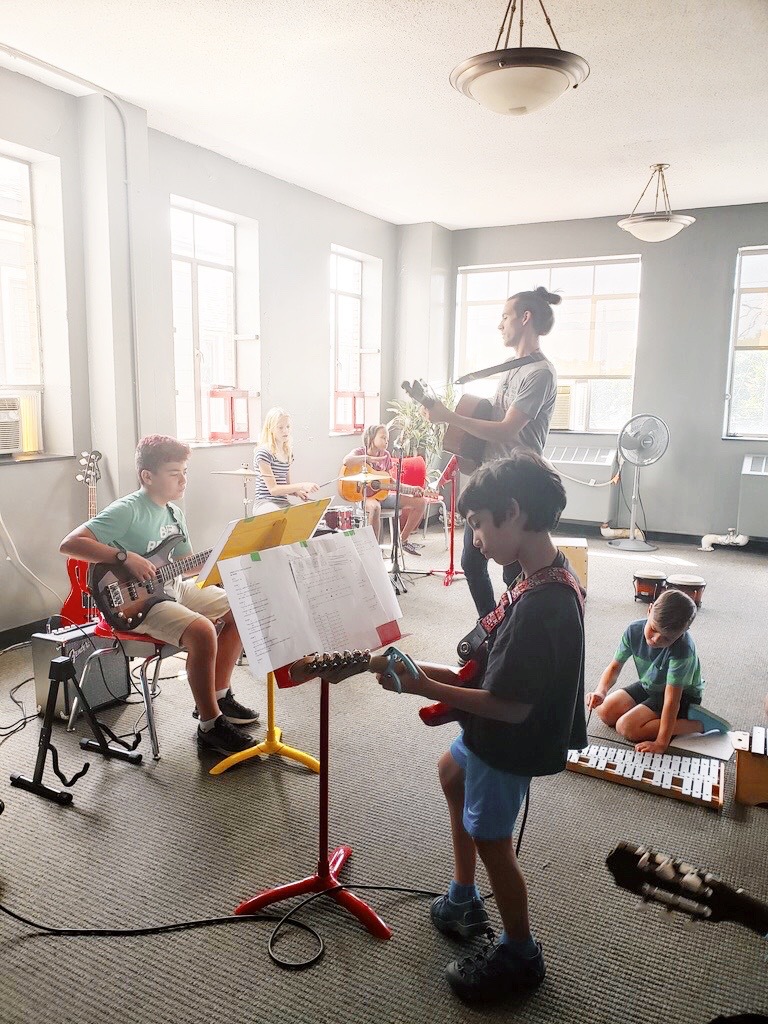 In January 2018, following a stint as the Director of Education at a theater company, Jennifer was looking for her next opportunity when a friend of hers who worked at Eclectic Music suggested that she apply there to be a voice teacher, and put her in touch with the school's founder, Casey von Neumann.
"It was a 30-minute interview that turned into a three-hour conversation," Jennifer recalls. "We were just so in alignment, and she offered me a job on the spot. She said, 'I don't really have a position for you, but I'll find one. We'll figure it out. I'll see you Monday.'"
Jennifer started out at Eclectic Music creating school programming and updating the website, and her role steadily expanded. Now, she manages the entire school as Executive Director.
"Our founder is still incredibly accessible, but she empowers us to run the company," Jennifer says. "So I manage the team, I help develop the curriculum, I hire. A little bit of a lot."
One of the things that resonated with Jennifer right away about Eclectic Music was Casey's teaching philosophy, which is that music is a means of joy and human expression, and anyone can do it.
"During my first conversation with Casey, she told me something that I've kept in my heart to this day. She said, 'For much of human history, people made their own instruments. You'd make a cigar box guitar, you'd have a parlor piano, or there'd be instruments accessible at church or community spaces. And then, with the mass production of recorded music, people went from making their own music to purchasing and listening to other peoples' music. And along with that, the study of music also became elite. It wasn't something that was meant for joy or enrichment or expressing the human condition, but something that was studied or used to improve test scores.'
When I learned Eclectic Music's educational philosophy, and saw the way that Casey taught, it was what I'd been looking for my whole life as a musician."
"I've had instruments all over my house my whole life," Jennifer continued. "I've had guitars and pianos and I've been afraid to sit down at them. And through my work with Eclectic Music, I finally confronted my own baggage and said, 'I can play a three-chord song on the piano, and that's playing the piano.'"
The school's student base ranges from toddlers to seniors, although the bulk of their students are children brought in by their parents. "Either their kid has some natural ability or interest, or the parents realize, 'Hey, this is something that's great and artistic and I want to enrich my child's life,'" Jennifer says.
Her favorite students, though, are the parents who come to them by way of their children, because she understands the beauty of reclaiming music for yourself, even as an adult.
"A parent will mention at a recital, 'I really wish I didn't give up piano, I regret it to this day.' And we'll say, 'It's not too late. We can schedule a lesson at the same time as your kids.' So now we have families who take lessons with us. At the virtual recital on Zoom that we just hosted, we had a couple of parent/child duos, which were so touching."
No matter what the age group, Eclectic Music focuses on the joy of playing, instead of forcing students to "practice."
"Why are we challenging children to practice 30 minutes a day?" Jennifer says. "To practice means you have to be able to self-identify what's wrong, and that's an extremely advanced skill set. That's actually what the teacher is for. What the students should be doing, especially beginners, is just playing. They should be having fun with music and their instrument while at home, they should be playing for their family before dinner to avid applause—then they can be doing focused practicing when they're with the expert. In this way, particularly for those students who dread practice, we don't drive the love of music out of them with obligation. Music becomes something they get to do, not something they have to do. And home practice begins to motivate itself, when practice is play."
See Nutshell in action!
Try Nutshell free for 14 days or let us show you around before you dive in.